Maersk
From Wikicompany
A.P. Moller-Maersk Group

Contacts

Web:
http://www.maersk.com
Email:
Phone:
+45-3363-3363
Fax:
+45-3363-4108
Address:
Esplanaden 50, DK-1098 Copenhagen]] K, Denmark
Geocode:
55.6883;12.5993

Info

Founding:
1904
Employees:

Relations

Parents:
Subsidiaries:
Maersk Air, Maersk Container, Maersk Rosti, Dansk Supermarked Gruppen
Affiliates:
Partners:
Customers:
Competitors:
See also:
SAS Group, Dansk Supermarked Gruppen, Netto AS, Maersk Air, P&O Nedlloyd, Boeing Commercial Airplanes, Dansk Supermarked Group, Maersk Sealand, Atlantic Airways,

Web

Web:
google, yahoo, translate
Trends:
visitors, linkin 1, linkin 2, searches, blogs
Financial:
google, yahoo, hoovers, bloomberg
News:
google, yahoo, indymedia
Blogs:
google, technorati, feedster
Articles:
g-scholar, g-books, worldcat, bookfinder, del.icio.us, digg
Photos:
google, yahoo, flickr, ditto, riya
Audio:
podzinger, odeo, podscope
Video:
google, youtube, blinkx
Feeds:
rss rdf
The A.P. Moller-Maersk Group, Template:Cse more commonly known as Maersk, is an international Danish business consortium involved in a variety of business sectors.
The company is best known for its large shipping business. The fleet consists of more than 250 vessels with a total deadweight of about 12,000,000 tons and includes container vessels, tankers, car carriers, supply ships, special vessels and drilling rigs.
Maersk is also engaged in exploration for and production of oil and gas, shipbuilding, aviation, industry, supermarkets and IT services.
The company has offices in more than 100 countries.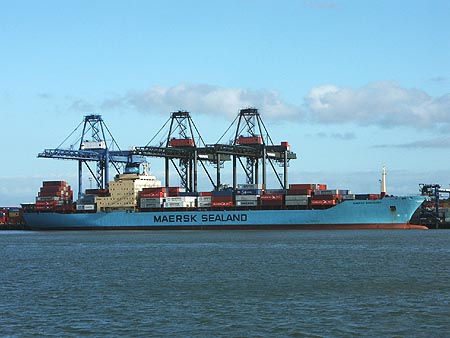 News
Denmark: AP Moller Maersk may gain large synergies from ... - FreshPlaza
AP Moller's Maersk Line, Hamburg Sued enter cooperation on ... - FreshPlaza

Ware district begins school registration - Staunton News Leader

Maersk Line introduces upgraded services to the US - Moneycontrol.com

Siemens to supply compressor trains for the Oil and Gas industry ... - PressZoom (press release)

Maersk Line sees 15 pct market growth in Asia-Europe lines - report - FreshPlaza

Danaos Reports Unaudited Results For Fourth Quarter And 2006 - WebWire (press release)

AP Moller's US market shares decline after acquisition of Nedlloyd ... - ABCmoney.co.uk

Maersk says Danish tax change may deter investment - Reuters
Danish shares close lower, led down by AP Moeller-Maersk, Novo ... - Forbes
... more news
Blogs
Maersk - Vessel Performance Engineer
Maersk - Manager - Global Industries, Electronics
Maersk - SAP/FACT Implementation manager
Emma Maersk: The Largest Cargo Ship in the World
Fall HHS! Winner: Mette Maersk
Maersk Inks Deepwater Gulf of Mexico Exploration Deal with ExxonMobil
Mgrs, Integrated Mgmt Syst-Safety, Environ&Quality | Maersk Inc.
Maersk Odense yard plans job cuts
Dumbarton project on stream as Maersk Oil prepares Affleck
Contracting Manager | Maersk Line, Limited
... more blog news
Video
Tugboat - Towing Laust-Maersk
EMMA MAERSK - The world biggest container vessel...
Maersk Bering..!

IEL's Phantom of the Opera

Take-off BCN

GlobalEnglish: soluções eficazes e econômicas de Inglês Corporativo

Emma Mærsk

DNS5 ki raatein...

Cluster Get Togheter 2007

Maersk Belfast - july 2006 - 4:30 AM - Trip to Islanda
Approaching Gudrun Maersk

Haven Hobby in Felixstowe Dock

Maersk Softball League Invitation

DNS 5 Zouk Out n Diwali Nite

FUN COMMITTEE activity 070309

Maersk Air Boeing 737-73S
Another eastbound Maersk rolls past Commerce, CA
Jobs
Billing Coordinator - Maersk - Madison, NJ
Manager, A/R Services - Maersk - Charlotte, NC
General Manager, Regional Human Resources - Maersk - Madison, NJ
Payroll Coordinator - Maersk - Charlotte, NC
Coordinator, DSL Export-00009705 - Maersk - Miami, FL
Representative, Cust. Svc.-Miami-88000001 - Maersk - Miami, FL