Caesars Entertainment
From Wikicompany
Caesars Entertainment

Contacts

Web:
Email:
[mailto:]
Phone:

[callto://]

Fax:
Address:
Geocode:

Info

Founding:
Employees:

Relations

Parents:
Subsidiaries:
Affiliates:
Partners:
Customers:
Competitors:
See also:
Las Vegas Hilton, Fortune 500, A&E Network, Harrah's Entertainment, Paris Las Vegas, Caesars Palace, Flamingo Las Vegas,

Web

Web:

google, yahoo. translate

Trends:

visitors

,

searches, blogs

Financial:

google, yahoo, hoovers, bloomberg

News:

google, yahoo, indymedia

Blogs:

google, technorati, feedster

Articles:

google, worldcat, del.icio.us, digg

Photos:

google, yahoo, flickr, ditto, riya

Audio:

podzinger, odeo, podscope

Video:

google, youtube, blinkx

Feeds:
rss rdf
Caesars Entertainment, Inc. (NYSE: CZR) is a Las Vegas, Nevada based business that is the largest owner, operator and developer of hotels and casinos throughout the world. Originally part of the Hilton Hotels chain it was spun off from Hilton in 2000, taking the name Park Place Entertainment. In September 2003 at the annual shareholder meeting a resolution to change the name of the company to Caesars Entertainment was approved and on January 6, 2004 the name change officially took effect. The primary reason for the name change was that management felt that it would help the company to capitalize on the Caesars brand name.
The company no longer exists after it was acquired by Harrah's Entertainment on June 13, 2005.
Corporate and investment history
Executive officers:
Stephen E. Bollenbach, Chairman of the Board
Wallace R. Barr, President and Chief Executive Officer
Harry C. Hagerty, Executive Vice President and Chief Financial Officer
Bernard E. DeLury Jr., Senior Vice President, Secretary and General Counsel
All of the previous and succeeding company's common stock was/is traded on the New York Stock Exchange.
On June 18, 2004, following approval by the Nevada Gaming Commission, Caesars completed the sale of the Las Vegas Hilton hotel-casino to Colony Capital for $280 million. A Caesars spokesperson stated that the sale would help the company focus on its major casinos on the Las Vegas Strip.
On July 14, 2004 Harrah's Entertainment agreed to purchase Caesars Entertainment for more than $5 billion subject to regulatory approvals. Regulators may require the new company to dispose of several properties, possibly in Louisiana, Mississippi, Nevada and/or New Jersey.
Properties at time of acquisition by Harrahs
Atlantic City Hilton Hotel/Casino, Atlantic City New Jersey
Bally's Hotel/Casino & Wild Wild West Casino, Atlantic City New Jersey
Bally's Casino, New Orleans Louisiana
Bally's Casino/Hotel, Tunica, Mississippi
Caesars Hotel/Casino, Atlantic City New Jersey
Caesars Palace at Sea
Caesars Hotel/Casino, Elizabeth Indiana
Caesars Palace Hotel/Casino, Gauteng South Africa
Caesars Palace, Las Vegas
Caesars Tahoe Hotel/Casino, Stateline Nevada
Casino Nova Scotia, Halifax Canada
Casino Nova Scotia, Sydney Canada
Casino Windsor, Windsor Canada
Claridge Casino/Hotel, Atlantic City New Jersey (See Bally's Casino/Hotel & Wild Wild West Casino for further information)
Conrad Jupiters Hotel/Casino, Gold Coast Australia
Conrad Resort and Casino, Punta Del Este Uruguay
Conrad Treasury Hotel/Casino, Brisbane Australia
Flamingo Hotel/Casino (Formerly Flamingo Hilton), Las Vegas Nevada
Flamingo Hotel/Casino (Formerly Flamingo Hilton), Laughlin Nevada
Grand Casino/Hotel, Biloxi Mississippi
Grand Casino/Hotel, Gulfport Mississippi
Grand Casino/Hotel, Tunica Mississippi
Sheraton Hotel/Casino, Tunica Mississippi
Reno Hilton Hotel/Casino, Reno Nevada (previously called MGM Grand Reno and then Bally's Reno)
The other Caesars
Caesars Entertainment is also the name of a Bangkok, Thailand brothel who is being sued by the US company for trademark infringement, on the grounds that the Bangkok Caesars is trying to capitalize on a trademark which they neither own nor are legally licensed to use.
Companies based in Nevada Gaming companies Hospitality companies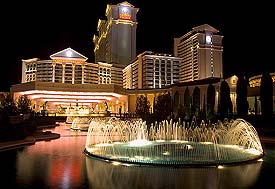 News
Harrah's Entertainment cuts 200 jobs in corporate office - Casino City Times

Different times, new contract talks - Casino City Times

Hotel workers gearing up for tough contract talks - In Business Las Vegas

Gaming Roundup: Charles Barkley Scores - Motley Fool

While Harrah's Claims They Have No Business in California ... - Emediawire (press release)

World's Standard of Online Poker (WSOP.com) - Casino Gambling Web

Traffic Jam in Atlantic City - Press of Atlantic City

Tribes to build casinos large and small - North County Times

Playing his cards right - Newark Star Ledger
Blogs
Caesars Entertainment: Kitchen Runner Guy Savoy (Caesars), found ...
Caesars Entertainment: Pit Clerk (part time), found on 2007-01-29 ...
Caesars Entertainment: Hotel Room Attendant Full Time, found on ...
Caesars Entertainment: Internal Surveillance Lead Officer, found ...
Caesars Entertainment: Promotions Attendant, found on 2007-02-05 ...
Caesars Entertainment: Application Tester, found on 2007-02-14 14 ...
Caesars Entertainment: Director, Training Western Division, found ...
Caesars Entertainment: Surveillance Agent Paris, found on 2007-02 ...
Caesars Entertainment: Lifeguard (TEMP) Paris, found on 2007-01-31 ...
Caesars Entertainment: EDR Cook III, found on 2007-02-03 14:05:32
... more blog news
Jobs
Training Coordinator - Harrah's Entertainment - Atlantic City, NJ
Teleservices Representative ** - Harrah's Entertainment - Atlantic City, NJ
Manager, Human Resources Corporate Office - Harrah's Entertainment - Las Vegas, NV
Director, Training - Western Division - Harrah's Entertainment - Las Vegas, NV
Director, Training - Eastern Division - Harrah's Entertainment - Atlantic City, NJ
Director, Training - Central Division - Harrah's Entertainment - Memphis, TN
Teleservices Representative ** - Harrah''s Entertainment - Atlantic City, NJ
Caesars Entertainment