L'Oreal
From Wikicompany
L'Oréal Group

Contacts

Web:

http://www.loreal.com

Email:
Phone:
+33-1-47567000
Fax:
Address:
41 rue Martre, Clichy 92117, France
Geocode:
48.9008;2.3081

Info

Feeds:
rss rdf
Founding:
1907
Employees:
50500

Relations

Parents:
Bettencourt Family (27.5%), Nestlé (26.4%), treasury shares (3.9%), publically traded (42.2%).
Subsidiaries:
Laboratoires Inneov, Galderma
Affiliates:
Sanofi Aventis (10.41%)
Partners:
Nestlé
Customers:
Competitors:

Web

Web:

google, yahoo. translate

loreal-finance.com
Trends:

visitors

,

searches, blogs

Financial:

google, yahoo

News:

google, yahoo, indymedia

Blogs:

google, technorati, feedster

Articles:

google, worldcat, del.icio.us, digg

Photos:

google, yahoo, flickr, ditto

Audio:

podzinger, odeo, podscope

Video:

google, youtube, blinkx, yahoo
The L'Oréal Group (Euronext: l'Oreal) is the world's largest company in the personal care sector.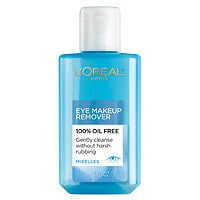 L'Oréal has operations in over 130 countries, employing 50,500 people, 24% of which work in France. The company operates 42 manufacturing plants throughout the world, which employ 14,000 people.
L'Oréal has 5 worldwide research and development centers. 2 in France: Aulnay and Chevilly. 1 in the US: Clark, New Jersey. 1 in Japan: Kawasaki, Kanagawa. 1 in Shanghai, China.
L'Oréal has developed activities in the field of:
cosmetics
make-up
hair care
hair color concentrate
skin care
sun protection
perfumes and eaux de toilette
L'Oréal is also active in the dermatological and pharmaceutical fields.
Business
Stockholders
Breakdown of share ownership: 27.5% by the Bettencourt Family, 26.4% by Nestlé, 3.9% treasury shares, the remaining 42.2% are publically traded.
Voting rights distribution: 28.6% to the Bettencourt Family, 27.5% to Nestlé, and 43.9% to the public.
Joint ventures and minority interests
L'Oréal holds 10.41% of the shares of Sanofi Aventis, the world's number 3 and Europe's number 1 pharmaceutical company.
The Laboratoires Inneov is a joint venture in nutritional cosmetics between L'Oréal and Nestlé; they draw on L'Oréal's know-how in the fields of nutrition and food safety.
Galderma is another joint venture in dermatology between L'Oréal and Nestlé.
History
In 1907, Eugène Schueller, a young French chemist, developed an innovative hair-color formula. He called his new, perfectly safe hair dye Auréole. With that, the history of L'Oréal began. Eugène Schueller formulated and manufactured his own products, which he then sold to Parisian hairdressers.
In 1909, Schueller registered his company, the "Société Française de Teintures Inoffensives pour Cheveux", the future L'Oréal. The guiding principles of the company that would become L'Oréal were put into place from the start: research and innovation in the interest of beauty.
In 1920, the small company already employed 3 chemists.
By 1950, the research teams were 100 strong; that number reached 1,000 by 1984 and is nearly 2,000 today.
L'Oréal got its start in the hair-color business, but the company soon branched out into other cleansing/beauty products. L'Oréal now markets over 500 brands and more than 2,000 products in all sectors of the beauty business: hair color, permanents, styling aids, body and skin care, cleansers and fragrances. They are found in all distribution channels, from hair salons and perfumeries to hyper- and supermarkets, health/beauty outlets and direct mail.
Schueller died in 1957 and the company was passed to his daughter Liliane Bettencourt. Schueller's right-hand man François Dalle took the helm and sailed the company overseas to the growing market in US.
L'Oréal purchased Synthélabo in 1973 to pursue ambition in the pharmaceutical field.
Owen-Jones became chairman and CEO in 1988.
Synthélabo merged with Sanofi in 1999 to become Sanofi-Synthélabo.
Sanofi-Synthélabo merged with Aventis in 2004 to become Sanofi Aventis.
In 2005, a research and development center established in China: Shanghai.
News
UPDATE 2-L'Oreal affirms FY targets after 9-mth sales rise - Reuters

Goldman Sachs Cuts L'Oreal To Sell - newratings.com

Neutrogena Sues L'Oreal Over Ads - Houston Chronicle

L'Oréal Paris Announces Winners of Inaugural Women of Worth ... - Business Wire (press release)

L'Oreal's legacy - Malaysia Star

Baker & McKenzie Wins Landmark IP Judgement for L'Oreal and ... - Lawfuel (press release)

L'Oreal UK lawyers argue trademark victory outweighs loss of ' ... - Forbes

L'Oréal sold on expanding Body Shop - MSNBC

L'Oreal plans Body Shop roll out - BBC News

L'Oreal loses London court bid to ban cheap 'smell-alike' perfumes - Life Style Extra

... more news
Blogs
J&J's Neutrogena sues L'Oreal over sunscreen ads

Analysis: L'Oréal looks for some Body Shop retail brand therapy

L'Oreal HIP/ Jemma Kidd / Bibo

Kate Moss L'Oreal Commercial - Vidangle Video

Scents and Sensibility

L'Oreal Vive Pro. Style & Body Infusing Conditioner, For Normal ...

L'Oreal announces 2007 fellowship program

Hair Color : Andie McDowell L'Oreal Excellence

L'Oréal sold on expanding Body Shop

LOreal Elvive Haircare Range

... more blog news
Jobs
L'Oreal Sales and Education Consultant - Knoxville, TN

Residency Program- Sr Storage Operations Specialist- L'Oreal - EMC Legato - California

Residency Program- Sr Storage Operations Specialist- L'Oreal - EMC - San Jose, CA

Sr Mgr - Global Marketing - L'OREAL INTERNATIONAL - New York

Personal Beauty Sylist - Make Up & Hair Color (PT) - L'OREAL INTERNATIONAL - Connecticut

Montclair-UG-Information Technology Explorer - L'OREAL INTERNATIONAL - New Jersey

Other Campus-UG-Information Technology Explorer - L'OREAL INTERNATIONAL - New Jersey

Rutgers-UG-Logistics Explorer - L'OREAL INTERNATIONAL - New Jersey

Villanova-UG-Finance Explorer - L'OREAL INTERNATIONAL - New Jersey

Penn State-UG-Information Technology Explorer - L'OREAL INTERNATIONAL - New Jersey

Rutgers-UG-Finance Explorer - L'OREAL INTERNATIONAL - New Jersey

University of Miami - Mfg Management Associate - L'OREAL INTERNATIONAL - New Jersey

Rutgers- Mfg Management Associate - L'OREAL INTERNATIONAL - New Jersey

Georgia Tech - Mfg Management Associate - L'OREAL INTERNATIONAL - New Jersey

Cornell - Mfg Management Associate - L'OREAL INTERNATIONAL - New Jersey

Dir - Marketing - L'OREAL INTERNATIONAL - New York, NY

Carnegie Mellon - Mfg Management Associate - L'OREAL INTERNATIONAL - New Jersey

Stevens-UG-Information Technology Explorer - L'OREAL INTERNATIONAL - New Jersey

Carnegie Mellon-UG-Information Technology Explorer - L'OREAL INTERNATIONAL - New Jersey

NJIT-UG-Information Technology Explorer - L'OREAL INTERNATIONAL - New Jersey
Video
A Lady in the Wind Uses L'Oreal

evelynevock/l'oreal

L'oreal Professionnel - Geometric Colors 2006

Global TV Coverage for Fashion Nation at L'Oreal Fashion Week

CBC Coverage for Fashion Nation at L'Oreal Fashion Week

Global TV Coverage for Fashion Nation at L'Oreal Fashion Week

Fashion Nation at L'Oreal Fashion Week

L'oreal Marketing Award Part IV

Global TV Coverage for Fashion Nation at L'Oreal Fashion Week

Careers & Jobs TV Show: Negotiating Skills, Virtual Nursing, Burn at Work

L'Oréal Dreads

Ben

Aishwarya Rai

Aishwarya in L'oreal Ad
Calvin & L'oreal
Calvin & L'oreal
Calvin & L'oreal
Calvin & L'oreal

L'oréal advert

l'oreal demo
Related companies